Why should I choose the laser over manual surgery?
The laser for cataract surgery has changed 3 of the 5 steps in cataract surgery. These steps used to be made with a blade and are now made more precisely and predictably with a laser.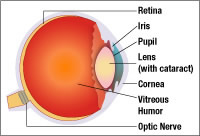 The laser is used to make the following:
1. The Capsulorhexis: This is an opening in the thin membrane bag-like structure that surrounds your natural lens. This is one of the most delicate steps in cataract surgery and is critical to the safety and efficacy of the procedure.
2. Arcuate incisions: The laser places incisions on specific areas of the cornea that are used to relieve and treat a patient's astigmatism.
3. Lens Nucleus division: The laser will divide the dense nucleus or center of the cataract into 4 quadrants that will make it a lot easier for the surgeon to remove piece by piece.
The laser offers precision and control to the cataract procedure. It offers real time images to guide the surgeon for proper alignment and offers better astigmatism management than the traditional manual method.
Surgeons have found that the placement of premium IOL's is much more predictable and precise with the laser. This means if you are planning on choosing a lens to correct your presbyopia (near vision) and distance vision, the laser is definitely the way to go!